If you'd like to share your thoughts about Happy Hoodie we'd love to hear from you. Please
click here
to send us your submission. All feedback is greatly appreciated!
Michelle Welch, owner of Pink Poodle Spa and Best Friends Dog Spa
"I use the Happy Hoodies in both my grooming salons. Because we advertise that we are a day spa for dogs, we are always looking for ways to reduce a dogs stress level while at the groomers. The Happy Hoodie was the answer to our worry about stress during blow drying. No grooming shop should be without them".
Sherri Weber, owner of The Doggie D'tail Shop
"Holy Happy Hoodie!!!! I just started using your product, and I thought I had seen a difference in the dogs behavior, however today I am gonna shout your name from the rooftop!!! I had my regular maltese client in, hates the drying process, and just makes both our lives miserable. He is a screaming, twisting little stinker. I popped on that Happy Hoodie and WA-LAH! I had me an angel! He was very well behaved for the rest of his groom as well, I believe it was because he wasn't worked up over the drying process. Thank you HH, my grooming life and my clients are better for your product!!!"
Barbara Bird, owner of Transformation Pet Center, Tucson, AZ
Bbird sez: "At last we have a way to help manage the stressful effects of loud dryers on our pet friends. I celebrate this compassionate product!"
Mary Oquendo, CMPTI, CCS, owner of Pawsitively Pretty Mobile Grooming Salon in Danbury, CT
"Every dog and cat that I groom wears a Happy Hoodie while being table dried. It protects their ears from the noise and the effects of an HV dryer. My furry clients are now so much calmer during the grooming process. Won't groom without them."
Paragon Grooming School - owner Melissa Verplank
"ingenious, what a great invention".

Bernadette Rogers
"The comfort and well-being of every individual pet has remained my priority throughout the 30 years I have been in pet grooming professionally. I can think of no better investment for the money than a set of Happy Hoodies. The calming influence Happy Hoodies cushion pets with in conjunction with the time saved as a result, keep the Happy Hoodies an essential grooming aid I will not find myself without".
Terry Ford - Professional Groomer for 35 years and owner of Furry Friends Kennel and Grooming
"It's UNBELIEVABLE the difference Happy Hoodie makes on the dogs! After a year of using this product, the extremely sensitive dogs that wouldn't stand for the force dryer now don't give it a second thought. Amazing. It's great for "wicking out" the excess water on the head and ears too. Gotta dog that hates its toenails being done, use the Hoodie!! Thanks for this great product".
Karen Wall-Shaw - The Country Groomer - Washago Ontario, Canada
"Hi just wanted to say I am thrilled with the Happy Hoodie. Excellent product and does an amazing job. Smiles"
Tammy Ellis - Salt Lake City, Utah
"I'd rather have a root canal and a broken leg on the same day than to groom without a happie hoodie!"
Gae Silva
"Incredibly super fast shipping, Happy Hoodie is even better than it shows. Unbelievable great product! Thank you! 10 stars! "
Margaret Kaikaka
"Zoni was prompt in sending order to me and it was a great experience. Product was just what I expected and helped to keep our dog calm when he gets anxious with sudden or loud noises. Free shipping was an added plus too!! "
Diane Himelblau
"good product, good value, fast shipping. very happy. "
Susan Martinez
"The product is wonderful! Shipping time was FAST! "
Katie Krause
"Fantastic. I always receive my merchandise super fast and packaged well. Happy Hoodies are the best invention I have come across in the grooming world. I wouldn't groom without them now!"
Cathleen Brooks
"Great product!! It really works! "
Sharon Kley
"I just want to say how pleased I am with your wonderful Hoodies. I was surprised and delighted when ours arrived so quickly yesterday. We put the Hoodie in action right away, testing all three dog's comfort level with the force dryer. The results were truly amazing, historically I have to have full body contact, to ease their stress while using the dryer, for the first time ever I was able to stand back to dry them off. Yea!

Our Dana, who is a puppy mill survivor, of five years of terror, was not bothered at all by typical sounds of combs and scissors bumping on the grooming table. Double Yea!

Another extra perk of the Hoodie is, Dana now sits so still, I'm able to easily trim her long cocker spaniel ears perfectly even, as the hang so nicely from under the Hoodie. Triple Yea!

I will be spreading the word about your fantastic product and great customer service to everyone I know. Good luck in your business and all your future endeavors."
Debbie
"We have a four year old English Springer Spaniel that we got from a family that couldn't exercise him. Roscoe was almost a year old when he came to live with us. He gets very excited/nervous when he sees us load our car for a trip anywhere. He usually gets to go with us and he pants,shivers and is just annoying. Our vet (Thom Myers in Heber) suggested we get the happy hoodie. I will let you know what happens with the car rides. I wanted you to know that yesterday after receiving the hoodie, I took Roscoe over to my parents house. He isn't bad, but again, he is excited and runs around in the house a little too much so I put the hoodie on him and told him to lie down next to me. Immediately he got this calm look on his face and he laid down until I took the "magic hoodie" off of him. I can't wait to try it in the car! Thank you!"
---

"My beautiful Bernice wearing her Happy Hoodie to cover her ears while getting dried. She liked wearing it."
Photo Provided By: Lori Tarnowski Hannah of
Bark n' Beauty Pet Salon

Photos provided by: The Bryants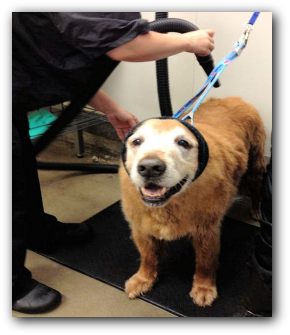 Happy Hoodie muffles the loud noise of the force dryer which calms Cooper at the grooming salon.
When he's camping with his family, Chub doesn't like the thunder that comes along with the Arizona Monsoons. He whines, cries, and hides under camp chairs and tables. Happy Hoodie's gentle compression calms him and muffles the noise of the thunder so that he can enjoy the day too.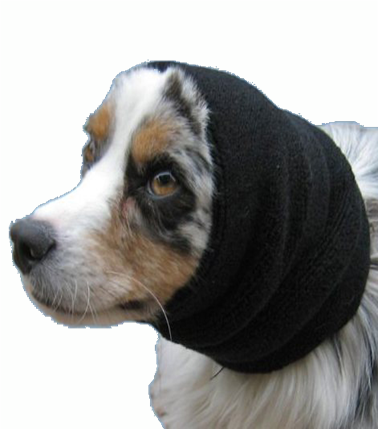 ™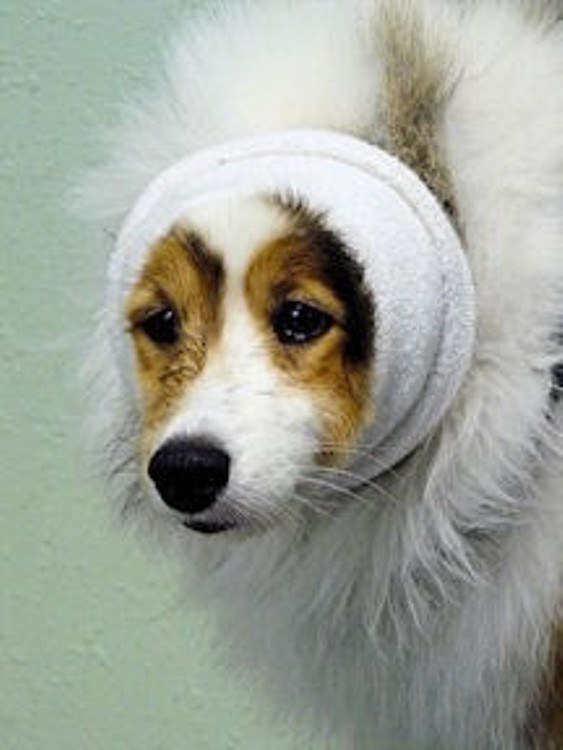 © 2008-2020 Zoni Pets, LLC.

Follow on Instagram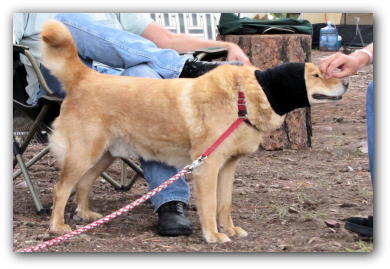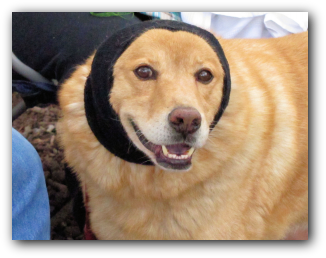 Landsee is an English Bulldog who has some issues. He gets so stressed that groomers aren't able to complete a full bath and brush on him. For an entertaining and heart warming story,
click here
to read how Happy Hoodie helped one of the most extreme cases we've ever heard.
Brie - Charlotte, NC
I heard about happy hoodies over the last year in several Facebook groups and I was skeptical bc no way could a product be that good. Well I finally broke down and they came in 3 days ago. Today it was put to ultimate test. I am a mobile groomer and have a regular German Shepherd that is just petrified of the dryer no matter what I do. He will do alligator death rolls thrash and to be honest I've never fully gotten him dry. Until today! I put the happy hoodie on and he was laying down on the table like a good ol pancake. Started up the dryer readying myself for the thrashing to begin. When we started he just laid there and I was like ok I can get a lot done with this and after a few moments he went to a sitting position on his own accord and was so good even around his chest and neck and underneath! I decided when I dried all that I could from that position I would slightly nudge him to stand and he did with no fuss and stood there like a pro while i got his back end! I was in total shock! His mom was thrilled bc he also let me dremel a few of his nails as well before he decided he had had enough. This was so much more than we ever accomplished before and has made me a true believer of the happy hoodie! I immediately sent a message to my manager telling him we need this on all our vans! I wish i had "broken down" and purchased these way earlier! Thank you so much